Long-term luxury off-grid caravan is the future of inland Australian travel
There are probably just a handful or so of true, large off-road Australian caravan brands – those designed and built from the outset to cope with really hard Outback conditions and long-term living. Deception Bay, Queensland-based Spinifex is one of them.
There are even fewer that are truly capable of sustained off-grid luxury remote living and that brings us to the latest Spinifex ElecTrex which broke cover at this year's Queensland Supershow.
After 17 years of production, Spinifex has its remote area credentials deeply rooted in the industry, with its off-road toughness demanded by its Queensland terrain, while its sustainability with the new ElecTrex Premier model reviewed here, makes it one of the leaders of the new-age technology pack.
Off-grid upgrade
Basically, the Spinifex ElecTrex is a $7000 battery and solar upgrade version of the 4500kg ATM Spinifex NomadiX Premium model, designed specifically for buyers who don't want gas appliances and the dust-inducing body vents that it requires.
Its distinguishing feature is its OzXCorp-developed 51-volt battery architecture coupled to 1720 Watts of rooftop solar that combined with its 415 litres of fresh water capacity and a separate 83 litre tank of carbon-filtered drinking water, endows the caravan with true off-grid sustainability.
Utilise the 5000 Smart inverter charger fitted to the review Spinifex and you can operate almost any 240v domestic appliance you like in the bush ­– like its Electrolux 90cm multifunction pyrolytic oven, 22-litre microwave oven, air conditioner or a proper coffee machine – all at the same time if you wish.
This firepower also means you can run the caravan's standard Truma Aventa Comfort Plus air-conditioner for six to eight hours at a time off the batteries in the tropics if you wish; watch the news anywhere on the 32-inch Smart TV linked to the Spinifex's standard Oyster V Satellite system, or run your business remotely with the CelFi-Go Phone Booster when your signal is low, making it your ideal working companion in faraway places.
Built for off-roading
Priced from $202,000, with the optioned-up couple's review van costing $210,200, the 19ft 6in ElecTrex Premier looked purposeful on its tandem axle Cruisemaster XT all terrain airbag suspension, along with its 17-inch alloy wheels and BF Goodrich off-road tyres.
Like the majority of large Queensland-built off-road caravans, Spinifex employs insulated interlocking aluminium wall framing rather than timber, with smooth external one-piece fibreglass reinforced exterior wall panels, a fully-insulated one-piece fibreglass composite floor and a one-piece fibreglass roof.
It all sits on an impressive CAD-designed and in-house built, hot-dipped galvanised dual beam 75mm chassis that's constructed on a jig to ensure its accuracy. Up front, headed by a DO-45 coupling, there's an extended A-frame that accommodates a large front storage box protected by a broad truck-mesh stone shield.
This toolbox houses a large cabinet-style fridge-freezer on one side and a generator on the other – both on slide-out trays, while an optional Weber Pulse 1000  electric BBQ and a stainless steel sink emerge from the van's body on another slide immediately behind. You can have an external gas cooker if you prefer.
All things on the door side are protected from the weather by the van's large external awning, when deployed.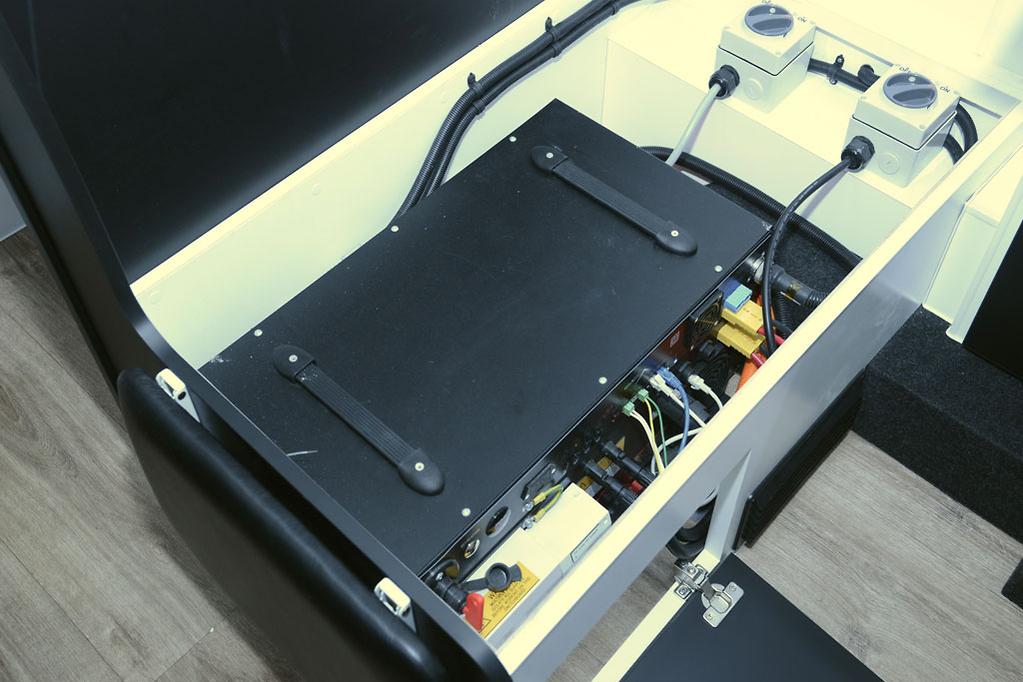 Plenty of appliances
A Truma diesel combination Combi D6 unit takes care of instant hot water and space heating, but buyers hesitant to go 'all-electric' can still opt for a combination of diesel, gas and electric powered appliances.
If you'd like to start your day with a real coffee, option a barrista-grade machine in the fully customisable pantry, confident that you will have power to spare to run it.
Dirty clothes? No problem. A 3kg front-loading NCE wall-mounted washing machine that's wall-mounted in the spacious rear bathroom takes care of these domestic cleaning duties.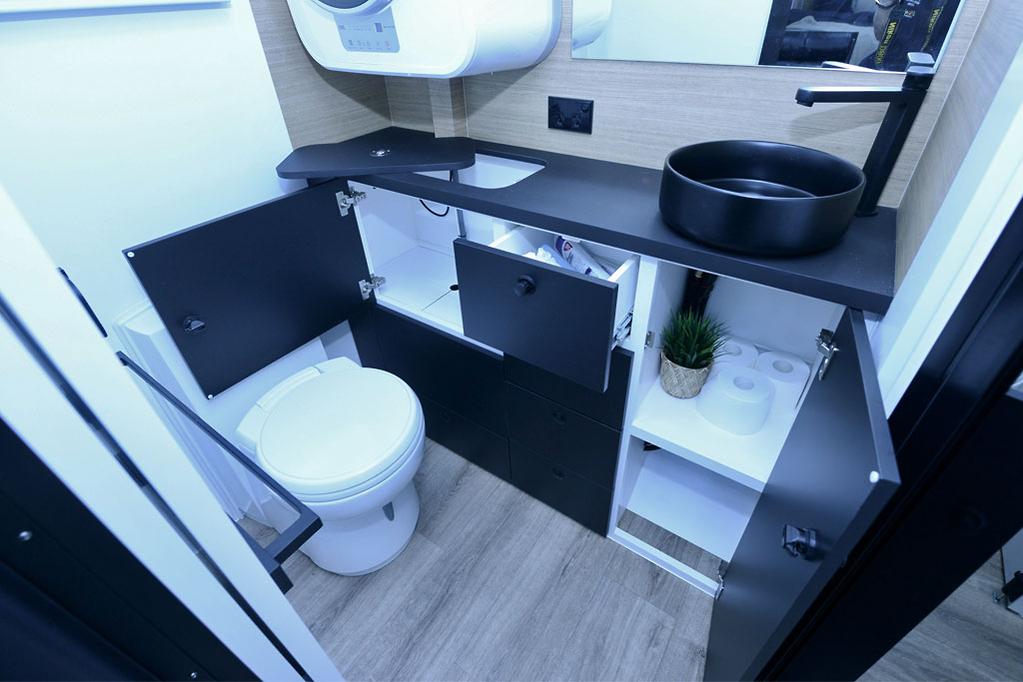 Long-term travel oriented
Given Spinifex's origins as a true off-grid caravan builder, it came as no surprise that it dealt with goat tracks almost as easily as highways, with its air suspension ironing out the harshest bumps, as well as making it a cinch to level at overnight stops, while its well-balanced chassis had a reassuringly feel of stability over a range of surfaces.
This is a caravan that we wouldn't hesitate to take on a long, all-roads, around-Australia trip with full confidence, and it's reassuring that the Spinifex team are all enthusiastic remote-area caravanners.
Verdict
The Spinifex ElecTrex is a true, tough remote-area caravan for those who like apartment comfort in the bush combined with proven strength, quality fittings and the rough-road comfort of airbag suspension, to ensure you get there and back in a relaxing way.
How much is the Spinifex ElecTrex Premier off-road caravan?
Price: From $202,000 (as reviewed $210,200)
Travel length: 8.66 metres
External body length: 5.49 metres
External body width: 2.45 metres
Travel height: 3.10 metres
Tare: 2960kg
ATM: 3500kg (can be rated to 4500kg)
Ball weight (Tare): 240kg
Body: Interlocking aluminium wall and roof frames with one-piece fibreglass reinforced external panels with lower aluminium wall cladding and a one-piece fibreglass roof and composite fibreglass floor
Chassis: In-house manufactured hot-dipped dual beam 75mm galvanised steel, with extended A-frame
Suspension: Cruisemaster XT All-Terrain airbag suspension with full camber and toe adjustment
Brakes: 12-inch electric/hydraulic disc brakes
Wheels: 17-inch alloys with 285/70 off-road tyres
Water: 415 litres of fresh water, plus separate 83 litre drinking water and 83 litre grey water tanks
Battery: 1 x 51 volt lithium battery, equivalent to 1300AH at 12 volts plus a 5000 Watt inverter/charger
Solar: 1720 Watts rooftop panels
Cooking: Westinghouse portable induction electric cooktop for inside/outside use
Fridge: 190L compressor fridge/freezer
Bathroom: Separate shower and composting toilet with 3kg front-loading washing machine
Lighting: Dimmable LED throughout
Supplied by: Spinifex Caravans, Deception Bay, Queensland